Breast Reduction Surgery in Toronto
A fact unknown to many, not everyone wishes for bigger breasts; instead of an augmentation, a breast reduction surgery is a vital step for many women working towards their desired bodies and have long suffered from back pain and disproportionate figures.
Our cosmetic surgery clinic offers breast reduction surgery (reduction mammoplasty) in Toronto to women looking to achieve a more manageable bust size, allowing them to go from a staggering F-cup to a more balanced C or D, in the process alleviating neck, shoulder, and back pain and discomfort, as well as limited mobility that may be caused by current breast size.
La Fontaine Cosmetic Surgery Clinic offers breast reduction surgery to patients in desperate need of a break from the body pain and sore muscles that their large, disproportionate cup size causes them. Want to know more? Claim your complimentary consultation today.
Why Opt for a Breast Reduction Surgery
Unknown to many, breast reduction surgery is just as common as augmentation — if there are a lot of people looking to have their breasts enlarged to achieve their ideal figure, there are also a lot looking to cut back and reduce the size of their breasts.
Plastic surgeons at cosmetic clinics are just as used to and experienced with breast reduction, helping thousands who want to achieve proportionate features. Our surgeons at La Fontaine Cosmetic Surgery Clinic practice refined surgical techniques to help patients get the results they want without causing heightened stress and trauma to their bodies. Our guarantee is a fast recovery and optimal results in just a short time.
Am I a Good Candidate for Breast Reduction?
In a nutshell, you will enjoy the health and lifestyle perks of a breast reduction if you have large breasts that cause discomfort in the back, neck, or shoulders and possibly hamper mobility due to the size, shape, and weight of your breasts. Plus, a reduction surgery will help to restore a balanced, proportionate figure.
Here's what our cosmetic surgeons look at when assessing you for a breast reduction:
Large, disproportionate breasts compared to the rest of your body.
The heavy weight of your breasts causes you to experience discomfort and pain in the back, neck, shoulder, and head.
The nipples and areolas face downwards or extend beyond the crease of your breasts, causing them to sag instead of being firm and shapely.
One breast may be noticeably larger than the other.
You suffer from chronic irritation on the skin under your breasts.
A breast reduction is recommended to be performed when breast development is complete, as this ensures peak physical condition and maximum effectiveness of the procedure. Other factors, such as childbirth and breastfeeding can also affect the size and shape of your breasts, so it is important to understand the implications of a breast reduction if you still intend to have children and breastfeed.
Our plastic surgeons will also assess your skin elasticity and the placement of the nipples and areolas to see how they could be corrected and improved with the surgery. Additionally, if you are currently overweight, we may recommend stabilizing your weight first to become an excellent candidate and help you to achieve your desired outcome.
Aside from these physical symptoms, your overall well-being and lifestyle will also benefit from a breast reduction. After the surgery, your smaller, more proportionate breasts will help you feel confident with your body, no longer self-conscious. Plus, it will be easier to enjoy various physical activities that you used to miss out on. Finally, shopping will be a breeze! You'll no longer feel frustrated when shopping for the perfect clothes, only to find out that they don't fit your chest area.
Ask Your Surgeon: Breast Reduction Consultation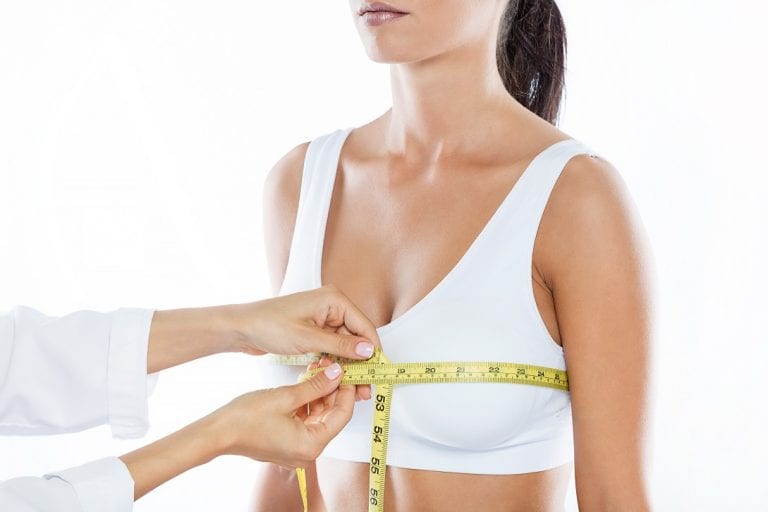 During your consultation with our one of our doctors, you will be completing a physical assessment to make sure that you are in sound health to undergo the procedure. Your breasts will also be measured, allowing our doctors to develop a breast reduction treatment plan and serve as their guide in giving you proportionate breasts. Our plastic surgeons look at these aspects:
Your current and desired breast shape, width, and nipple position.
Amount of lift required to achieve your desired breasts and a proportionate, better contoured figure.
Your medical history to assess and ensure your physical fitness for surgery.
By taking into account these factors, our cosmetic surgeons will be able to develop your breast reduction treatment plan that will not only help to improve your figure, but more importantly, ease the pain and discomfort that you have been experiencing. The result is lifted and reshaped breasts, elevated nipples, and reduced pigmented areolas.
What Happens in Your Breast Reduction Procedure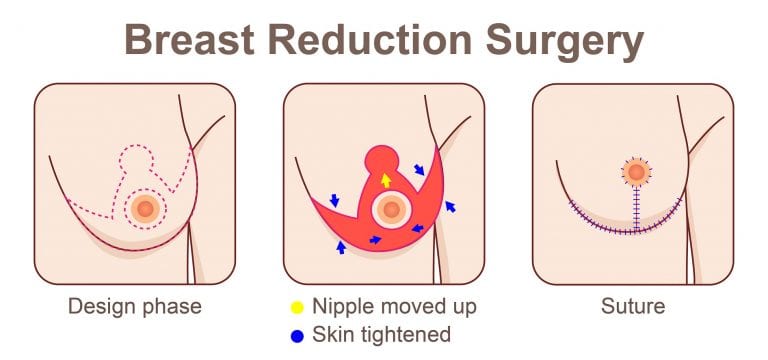 A breast reduction surgery is designed to remove excess tissue, fat, and skin in your breasts to reduce their size, and make them light and firm. To help you achieve a cup size that's proportionate with the rest of your body, your surgeon may also need to reduce the size or change the shape of the areolas and nipples.
At La Fontaine Cosmetic Surgery Clinic, our doctors are extensively trained in various breast reduction methods that help countless women achieve satisfying degrees of breast lift, improved shape, and enhanced lifestyle.
The most common or traditional breast reduction surgical technique uses three incisions – one around the areola, a vertical incision from the bottom of the areola to the crease under the breast, and another under the natural curve of the breast crease. This is known as the T-shaped incision on the breast, but over the past years, our surgeons have developed and explored other techniques that reduce scarring and enable better recovery. These include making incisions around the new areola and along the vertical marks to remove breast tissue, fat, and skin from the bottom and centre of each breast, and in the process elevating the breast tissue from the chest wall itself to a higher position. In doing this, our cosmetic surgeons do not need to detach the areola and nipple from their blood supply to reposition them.
Additionally, to improve the shape of your breasts, the skin above the nipple is pulled down, and liposuction may be used to contour and sculpt your new breasts, particularly the part hidden under the arm.
In a few days after your surgery, you will be able to regain mobility in your arms and chest area, allowing you much needed post-operative comfort. To ensure proper healing and to avoid bruising, you will have to wear a support bra for a few weeks, until the swelling and discolouration subside. The best part is, in as little as under a week, you will be able to go back to work and get back to your daily routine with only mild discomfort experienced.
While resting after your surgery, you'll be able to manage normal pain and soreness using prescribed painkillers, and shower normally once the drain is removed between 2 to 5 days following your breast reduction. It's important to have a friend or loved around if you'll find the need for heavy lifting or physical activity, as you'll be instructed to refrain from these for about 2 weeks. If you like being active, you'll have to swap your regular routine for lighter exercises, as straining your upper body in the next 6 weeks is a big NO. Finally, you'll also need to switch to a soft, non-underwire bra while recovering.
While risks and complications are true of any surgical procedure, breast reduction is deemed to be generally safe and effective at enabling an excellent quality of life due to its physical and psychological benefits. Breastfeeding may not be possible in some cases; that's why it's important to be honest about your goals and plans with your doctor and yourself to ensure that the surgery will not hamper your early motherhood journey, especially if it is still in the works. Post-operative infections, bleeding, and an adverse reaction to anesthesia are the most common hindrances to a surgical patient's care, but with excellent patient care and extensive follow-ups conducted by our team of cosmetic surgeons, nurses, and patient coordinators, as well as adherence to post-operative care instructions, you will be sure to have a safe and smooth recovery.
Breast Reduction Cost & Payment Options
Because of the adverse effects on a person's physical health and well-being that enlarged breasts have, breast reduction surgery may be covered by OHIP following a doctor's recommendation. Otherwise, you may have to shoulder the cost of the surgery. But not to worry, because if your breast reduction will not qualify for OHIP, our team at La Fontaine Cosmetic Surgery Clinic will work with you to find the best financing options available to you, ensuring that the cost of the surgery won't hinder you from achieving your desired figure and a pain-free life!
Bonus: Make it a Mommy Makeover!
Heads up, if you're thinking of a breast reduction to rejuvenate your appearance after having kids, you can get the best results from your surgery by combining it with other procedures all designed to give you back your oomph. You can combine your breast reduction surgery with a tummy tuck or liposuction to further redefine the contours of your new figure!
Don't suffer from back pain and discomfort any longer! A breast reduction surgery restores excellent quality of life and gives your body and enviable contoured shape. Ask our cosmetic surgery clinic today.