All Gastric Balloon Procedures are performed by our Gastroenterologists. Dr. Lawrence B Cohen, MSc FRCP, specializes in the gastric balloon weight loss surgery.
Lawrence Cohen, MD, joined La Fontaine Cosmetic Surgery Centre Canada as a Gastroenterologist in 2012. He also serves as an Associate Professor in the Department of Medicine at University of Toronto, a position he has held since 2000. Dr. Cohen is a Fellow of the Royal College of Physicians and holds a Physicians and Surgeons of Ontario Licensure.
Since 1985, Dr. Cohen has been an active gastroenterology consultant at the Sunnybrook Health Science Centre in addition to medical and acting director positions there.Raised in Toronto, Canada, he began his post secondary school education at the University of Toronto, earning a Bachelor of Science degree, and later, his Masters of Science degree in Pharmacology.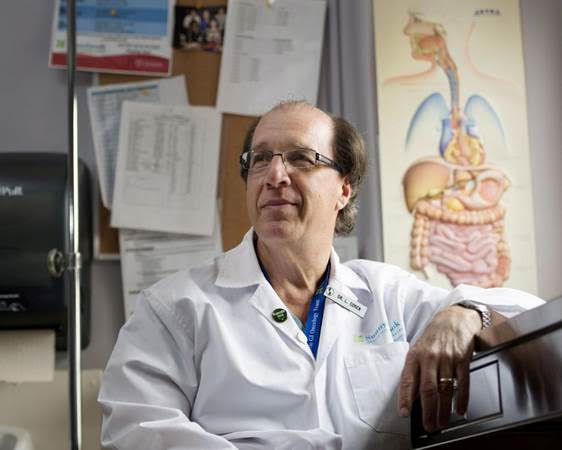 He attended McMaster University (Hamilton, Ontario) where he earned his Doctor of Medicine degree and continued his post-graduate training with an internal medicine internship. He completed his residencies at Sunnybrook Medical Center, Toronto, and Austin Hospital, Melbourne, Australia respectively. Dr. Cohen continued at the University of Toronto and Wellesley Hospital, Toronto, to complete his subspecialty and clinical fellowships in gastroenterology. Dr. Cohen has been an active member in numerous Canadian and American gastroenterology-related societies and committees, and over the past thirty years, has received many awards for his research, teaching and academic accomplishments. He has written or collaborated in 22 peer-reviewed journals, 39 abstracts and has been a presenting speaker to 26 learned societies.Dr. Cohen enjoys all that life has to offer, and lives for his family of five sons and a supportive, loving wife.
Lose weight non-surgically with the world's #1 weight loss balloon
Fast Forward Your Weight Loss Now!
Our comprehensive Gastric Balloon Program includes:
* The Gastric Balloon needs no surgery, no cutting. * Lose weight safely achieving and maintaining a happier, healthier, more fulfilled life. * Taking control of your weight safely without the risk of surgery or drugs. Our unique and proprietary diet and life-style management coaching doctrine and methodology includes in-person service delivery; video counselling; video conferencing; and SMS/E-Mail support. The program is intense for six months but lasts a year. Your life will be changed and you will finally feel comfortable and happy eating a sensible, normal diet, post-balloon. We'll stay with you for six months after your balloon is extracted. After that first six months we will follow up on your progress and support you when needed with additional counseling visits up to 12 months from start.
We Have the Newest and Best Weight Loss Program for You
Our skilled medical professionals at our clinic in Toronto have dealt with all the mental and physical challenges of people who need to lose weight. Our multi-disciplined plan–including the intragastric balloon, a non-surgical weight loss alternative–can deliver the weight-loss you need. We positively change people's lives. Offering a simple Gastric Balloon procedure supported by six months of powerful lifestyle management coaching and another six months of support, you will lose weight.
Gastric Balloon
PRE-OPERATIVE Information's and Instructions
PRIOR TO BOOKING YOUR PROCEDURE
PREPARING FOR YOUR PROCEDURE
5 DAYS BEFORE THE PROCEDURE
OPTIONS WEIGHT LOSS CLINIC
890-A Yonge St. Toronto, ON M4W 3P4
Tel: (416) 962-4444 Text: (647) 760-3234 Email: reception@tpsclinic.com
BALLOON REMOVAL PRE-OPERATIVE INSTRUCTIONS
DO NOT TAKE ASPIRIN OF IBUPROFEN OR OTHER ANTI INFLAMMATORIES:
Click here to learn about the Orbera balloon removal process
By clicking the link, you'll discover valuable information about the safe and effective removal of the Orbera balloon. Our experienced team at La Fontaine Cosmetic Surgery Clinic is dedicated to providing comprehensive resources to ensure that you are well-informed throughout your entire treatment journey.